ACOUSTIC FLOORING AT PREMIER INN MONMOUTH & PREMIER INN WELLS
JCW Acoustic Flooring have recently installed acoustic flooring at two new Premier Inns for McGoff & Byrne.
Knauf Brio 23WF was installed to the 60-bed Premier Inn at Portal Road, Monmouth. Starting on site in August 2016 and completing we completed our works within 4 weeks JCW ensured that the fast paced programme was maintained.
We commenced work on the 69-bed Premier Inn at Rowdens Road, Wells in September 2016 and completed the acoustic flooring works in October 2016. Both Premier Inns are due to open their doors early in 2017.
JCW Floor Screeding also carried out the screeding works to the ground floors providing the complete package for McGoff & Byrne.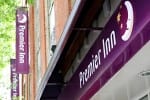 OTHER ACOUSTIC FLOORING SYSTEMS
These are just two projects where JCW Acoustic Flooring demonstrated our flexibility by installing acoustic flooring systems manufactured by a number acoustic flooring suppliers. Once again showing that JCW have the knowledge and knowledge and expertise to successfully complete any project to any specification.
JCW Acoustic Flooring have installed a wide range of acoustic flooring products in variety of applications over the past 12 years.